Aged Provolone Valpadana P.D.O.: a strong cheese that triumphs in the mouth with a persistent aroma
The Provolone Valpadana P.D.O. differs from other stretched-curd cheeses in that it can be aged for a long time, up to one year or even longer, without becoming dry and brittle.
This makes it ideal for eating it alone thanks to its triumph of persistent aromas. A prized cheese, so much so that the aged Provolone Valpadana is the flagship product of the dairies, because of its taste, characteristics and special features linked to the cheesemaker's skill!
It is also perfect as an ingredient in the kitchen. In fact, there are several recipes that call for the aged Provolone Valpadana: from appetisers to first courses, in addition to second courses and, why not, even pizzas!
The aging process, which is always carried out within the production area, is suited to the type of Strong Provolone Valpadana. The aging occurs in places that are suitable in terms of temperature and humidity, and the aging period may vary based on the weight.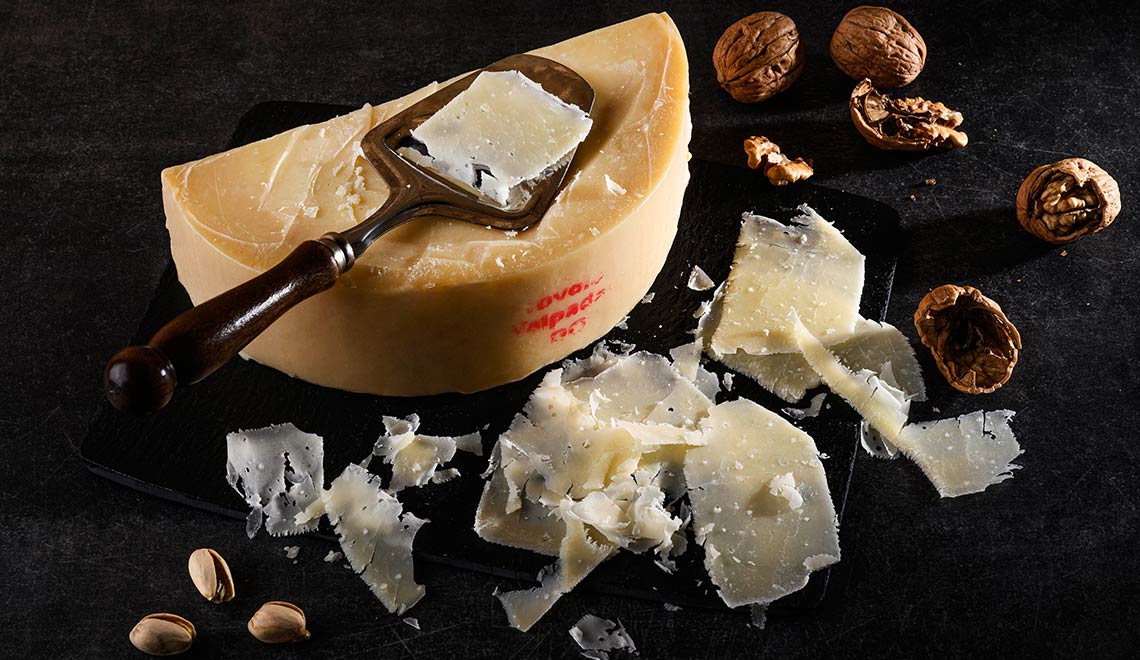 The Provolone Valpadana P.D.O. does not have a standard weight or shape; indeed, it can be found on the market in different types of shapes and sizes.
Larger shapes are chosen for the aging of the strong version, preferring formats weighing approximately 30 Kg which take different names such as Salami, Gigantino, Mandarino/Mandarone and Pancetta/Pancettone.
If the Provolone Valpadana is smaller in size, the minimum aging period will be ninety days; formats weighing more than 30 kg, even those bearing the mark P.V.S. (Aged Provolone Valpadana), may be aged for a period of more than 8 months.
The Aged Provolone Valpadana is an excellent product to enjoy by itself, paired with different types of honey and jams able to sublimate some of its aspects, so as to fully enjoy all its aromatic nuances.
To be paired with a glass of full-bodied red wine such as Brunello di Montalcino, Amarone, Barolo or an Italian bubbly wide such as a Franciacorta.
We suggest trying it grated, aged for a period of more than 12-15 months, on pasta dishes to give a touch of added flavour to your daily recipes.
Aging is a slow cycle of biochemical changes which is in turn the result of glycolytic, proteolytic and lipolytic aging processes.
These processes contribute to giving this strong cheese the qualities that so distinguish this particular type of cheese: appearance, taste, smell and nutritional properties.
Depending on whether the aging process is long or short, the Provolone Valpadana will look straw-yellow in colour up to more intense hues as the aging time increases.
It has a solid paste featuring slight cracks, the rind, and/or a solitary hole. To the touch it has a medium hardness, and it is slightly greasy. The olfactory descriptors are complex, also including the component of the rennet paste used.
In the mouth, it offers balanced basic flavours, bringing out a markedly strong trigeminal sensation, at times accompanied by a modest sharpness.