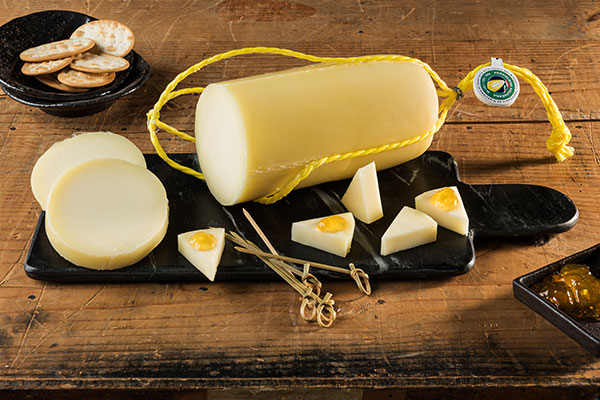 How to cut the cheese and present it to guests: style tips
Cutting the cheese may seem a simple operation, but it requires a thorough knowledge of the structure and characteristics of the cheese itself. Only in this way is it possible to create a presentation in a workmanlike manner, able to amaze the guests, and also choose the best way to preserve it correctly and for a long time.
Provolone Valpadana is a spun paste cheese that has the greatest variety of shapes and weights compared to all the others. The plasticity of the cheese, its characteristic during the processing phase, allows our master cheesemakers to delight in producing shapes with very different weights.
It is therefore not only the structure of the spun paste itself that is decisive, but also the final shape that the cheese has taken on
The variants of salami, melon/pork, truncated cone, flask require a different cut, which is easy to make and allows to obtain pieces to be cooked or served at the table.
The weight of the Provolone Valpadana varies from 0.5 kg up to over 100 kg, so cutting the cheese will obviously be very different for a small shape, for which you can easily make at home, or a very large one, which will be entrust to a professional.
How to cut the Provolone Valpadana P.D.O.
The cut of the Provolone Valpadana therefore varies according to the shape.
For example, to serve a cylindrical form of Provolone Valpadana, cut slices with a thickness of one centimetre or one and a half centimetres. For a better result, cut this large "washer" into slices, placed on a wooden chopping board (possibly made from olive tree). How many slices? It depends on the diameter, but around an average of twelve.
In the case of Provolone Valpadana "mandarin", cut a slice from the cheese (you can follow the grooves where the rope passes).
Once placed on the wooden cutting board, slice it into many triangles to offer your guests as a snack. If you don't know how to choose between mild and strong Provolone, don't worry: serve both, strictly accompanied by good bread and why not, by their ally wine and amaze your guests with tasting tips.
To cut the cheese in comfort we recommend using a large but not serrated knife. A presentation at the height of the Provolone Valpadana is to serve it on a wooden plate, in its best shape so that it is raw. Last but not least: serve it at room temperature and not as soon as it is taken out of the fridge.