Combinations Provolone Valpadana P.D.O.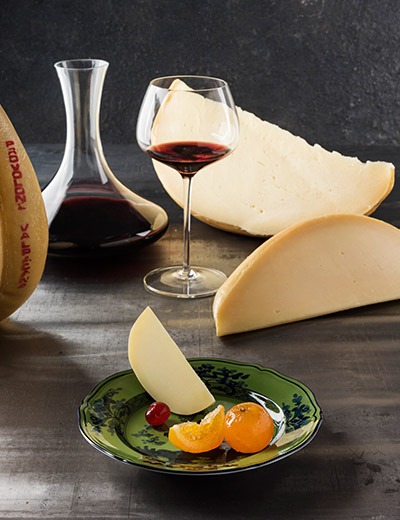 How to combine Provolone Valpadana P.D.O. with other foods and the right wine for your moments of conviviality
How many combinations with Provolone Valpadana can be made in a single dinner? The answer is many, as you can see from our recipes with appetizers, first courses, main courses, sauces and even desserts and sandwiches.
We have already seen how easy it is to combine Provolone Valpadana with bread: durum wheat bread (like Altamura) for strong Provolone Valpadana; while for mild, sesame bread or, more simply, the classic rosetta is excellent.
But combinations with cheese also find fertile ground in Cremona mustard, which goes well with this ancient farmer's product, as do honeys and some jams, especially figs.
Discover the tasting tips and sensorial profiles of the Provolone Valpadana P.D.O.
Don't forget the combination of wine and Provolone Valpadana P.D.O.!
As with food, the combination with wine is also a matter of personal taste.
It is difficult to find one that does not harmonize with Provolone Valpadana but the choice can also be related to the different type of cheese.
Mild Provolone Valpadana P.D.O.
Classic method sparkling wines: from Franciacorta to Trento Classico to Classese from Oltrepò Pavese, to Alta Langa Piemontese or Erbaluce di Caluso sparkling wine from Piedmont.
White wines of medium structure
Roero Arneis of Piedmont
Nosiola of Trentino
Tocai from Friuli
Verdicchio di Matelica Marche
Frascati of Lazio
Vermentino of Sardinia
Vermentino Liguria
Ortrugo dei Colli Piacentini of Emilia-Romagna
Petit Arvine of Aosta Valley
Durello of the Lessini Mountains Veneto
Grechetto of Umbria.
Young or medium structured red wines
Dolcetto Piedmont
Groppello del Garda in Lombardy
Teroldego Rotaliano in Trentino
Lagrein in Alto Adige
Schioppettino of Friuli
Lambrusco secco in Emilia-Romagna
Rosso Piceno in Marche
Chianti Rufina o Colli Fiorentini in Tuscany
Castel del Monte, anche rosato, in Apulia
Etna rosso in Sicily
Ruchè di Castagnole Monferrato in Piedmont
Gutturnio frizzante in Emilia-Romagna
San Colombano in Lombardy
Lacrima di Morro d'Alba in Marche
Cesanese in Lazio.
Strong provolone Valpadana P.D.O.
Classic vintage method sparkling wines "Millesimato" (which means obtained from grapes of a single year) in the same areas mentioned above.
White wines of good structure, also with wooden transition, such as
Gavi in Piedmont
Terre di Franciacorta white in Lombardy
Soave in Veneto
Verdicchio dei Castelli di Jesi in Marche
Vernaccia di San Gimignano in Tuscany
Fiano in Campania
Timorasso dei colli Tortonesi in Piedmont
Malvasia dei Colli Piacentini in Emilia-Romagna
Lugana superiore in Veneto.
Red wines with good structure, such as
Barbera d'Asti in Piedmont
Valtellina Sforzato in Lombardy
Pignolo in Friuli
Rosso Conero in Marche
Nobile di Montepulciano in Tuscany
Aglianico in Campania
Primitivo di Manduria o Negroamaro in Apulia
Cannonau of Sardinia
Gattinara in Piedmont
Buttafuoco in Lombardy
Sagrantino di Montefalco in Umbria
Montescudaio Rosso Tuscany.