History of the Consortium
The long history of the Consorzio Tutela Provolone Valpadana involved in defending the quality and guaranteeing the origin of the cheese
When we talk about the history of our Consortium it is obvious that the events that concern it are all Italians.
The Consorzio Tutela Provolone Valpadana is a voluntary organization, established in 1975 under the name of Consorzio per la tutela del Provolone Tipico Italiano.
Subsequently in 1986 the name changed and became Consorzio del formaggio tipico Provolone and the headquarters was transferred to the city of Cremona.
Again in 1993 it changed into Consorzio Tutela Provolone and in 2002 it became what it is today, Consorzio Tutela Provolone Valpadana.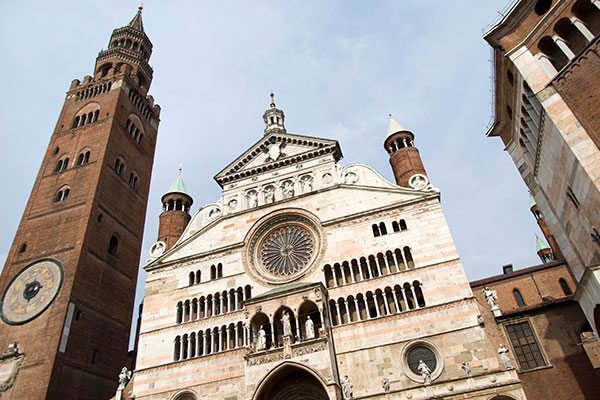 In the now distant 19th century
The history of the Consortium itself, however, began around 800, when some of our countrymen, now expert cheesemakers, made the abundance of cow's milk produced in northern Italy a real cheese. Making use first of all of the well-known quality of the raw material, they exploited the numerous processing techniques consolidated over the years to create a good and unique spun paste cheese.
Over the years, the shapes of Provolone cheese have changed, as well as the dimensions that saw the creation of sizes of even a quintal.
The history of the Consortium sees 1993 as a key year, since the denomination of origin "Valpadana" is added to the term "provolone" and in 1996 the cheese finally obtains the long-awaited and deserved P.D.O. qualification.
Nowadays the use of Provolone Valpadana is common in all Italian kitchens, from north to south, and this is synonymous of the versatility of the product. Indeed, our recipes section offers many innovative uses of Provolone Valpadana in the kitchen, from first courses to desserts.
How to become a member of the Consortium
Today, becoming a member and taking an active part in the history of the Consortium is simple: the producers are the companies that reside in the production area of Provolone Valpadana delimited by the production regulations and convert the milk collected exclusively in the above mentioned areas into Provolone Valpadana P.D.O.
The Production Specification clearly explains the basic requirements for a producer to be certified by the supervisory authority and to join the consortium.
1975

Year of establishment – Consorzio per la Tutela del Provolone Tipico Italiano

1986

Change of company name in Consorzio Formaggio Tipico Provolone

1986

Transfer of registered office in Cremona

1993

New company name change in Consorzio Tutela Provolone

2000

ISO 9001 Certification – Consortium Quality System Management

2002

New company name change in Consorzio Tutela Provolone Valpadana

2002

Recognition of the Consortium and assignment to carry out supervisory functions – D.M. 26/04/2002

2020

Last triennial award – D.M. 25971 del 20/05/2020